The theme for the Twisted Fate Photography Challenge this week is
Street
. This is the photo I had originally planned to use - a photo of my best friend and my mom walking down the street of the town where I live.
Here is the before and after comparison for Pixel Perfect:
This is a really basic edit: crop, levels, black and white gradient map, and a free texture from
Isabelle Lafrance
. Done!
After editing, I decided that it didn't really fit the theme. So I went back into my archives, found another one, did some more editing, and ended up with this:
And I love it! So THIS is my entry for Destiny's challenge. I used the Heartland PSE action from Pioneer Woman (converted by
Rita from CoffeeShop
) and lowered it to taste, plus the XSGrunge texture from
Shadowhouse Creations
.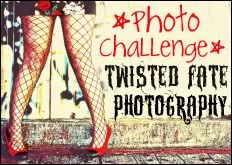 Do you agree with my choice of photo for this challenge?