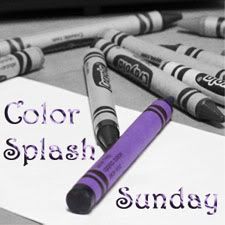 Welcome to Color Splash Sunday!

Color splash photos are those that have been

converted to black and white

, but

one object has been left colored

. Sometimes, it's easy to just isolate your colored object and you're done. Other times, more editing is required, such as adjusting color levels/light/shadow/etc.

This is an open themed link-up, so there won't be any specific themes for your photos. Any photo is fine, as long it was taken or setup by you, has selective color, and you haven't posted it before. You can read more about CSS guidelines by clicking here.
I'm sorry I didn't get to visit anyone last week. I am almost done traveling for work, so I have been trying to wrap up all that my "travel season" entails. Transitioning back to being in the office is just as difficult as going back on the road. Additionally, we were given cell phones this year to keep in touch with our prospective students, which means I am "on call" much more often than in the past.
Anyway, my selective coloring photo for today is another one from our honeymoon cruise. (I had posted one photo from our cruise
HERE
. That happens to be the only photo I've posted so far.) The pool deck on our ship was huge! There was 2 pools, a waterslide, several hot tubs, a bar, a cafe, a stage, and a poolside casino. Honestly, though, we didn't spend too much time on that deck because there were so many kids running around.
Your turn to link up!