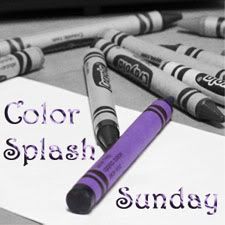 Welcome to Color Splash Sunday!

Color splash photos are those that have been

converted to black and white

, but

one object has been left colored

. Sometimes, it's easy to just isolate your colored object and you're done. Other times, more editing is required, such as adjusting color levels/light/shadow/etc.

This is an open themed link-up, so there won't be any specific themes for your photos. Any photo is fine, as long it was taken or setup by you, has selective color, and you haven't posted it before. You can read more about CSS guidelines by clicking here.
There will not be any top 3 favorite photos during the summer.
This balloons are from my cousin's graduation party. The photo was really dark because I had been previously been taking photos of the sunset, and I forgot to switch settings before taking this photo. I knew it would be really hard to brighten it up without screwing up the colors or adding excess noise, so I figured a selective coloring edit would be perfect!
Before I post the inlinkz, I just wanted to tell you all about a couple of things. First off, I was recently featured on Branson's blog, A Reflection of Something.
CLICK HERE to see!
Second, I started a facebook page for my blog. I know it's kinda the new thing for blogs, so I joined the trend.
CLICK HERE for my Artistically Amy facebook page.
Okay, time to link up!