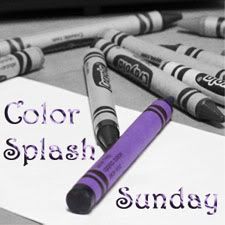 Welcome to Color Splash Sunday!

Color splash photos are those that have been

converted to black and white

, but

one object has been left colored

. Sometimes, it's easy to just isolate your colored object and you're done. Other times, more editing is required, such as adjusting color levels/light/shadow/etc.

This is an open themed link-up, so there won't be any specific themes for your photos. Any photo is fine, as long it was taken or setup by you, has selective color, and you haven't posted it before. You can read more about CSS guidelines by clicking here.
There will not be any top 3 favorite photos during the summer.
I'm sorry to admit that I don't have a color splash photo to share with everyone today. I was so overwhelmed last week, what with going back to work, trying to sort out cards and gifts from the wedding, and getting ready for our honeymoon. I didn't even get to visit last week's participants, which makes me very sad. The internet on the cruise costs an arm and a leg, not to mention the fact that I left my laptop at home. (This post was scheduled.) I won't be visiting anyone this week, but please do still link up and visit each other's blogs! I will be back next week, hopefully with a photo from our cruise.