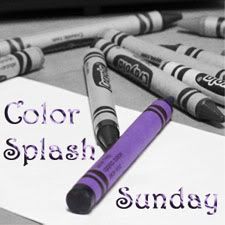 Welcome to Color Splash Sunday!

Color splash photos are those that have been

converted to black and white

, but

one object has been left colored

. Sometimes, it's easy to just isolate your colored object and you're done. Other times, more editing is required, such as adjusting color levels/light/shadow/etc.

This is an open themed link-up, so there won't be any specific themes for your photos. Any photo is fine, as long it was taken or setup by you, has selective color, and you haven't posted it before. You can read more about CSS guidelines by clicking here.
I honestly can't remember if I visited any of last week's participants. I'm going to assume I didn't, for which I am very sorry. I haven't been putting as much thought or care into this link-up as I should be. I've actually been considering ending it. I usually forget to plan a post, and then I have to rush to get it up late Saturday night or early Sunday morning. I don't like when I don't have time to go visit everyone who links up. I'm also running out of photos to edit or add selective coloring (since my point and shoot camera usually doesn't work).
This week's photo is not a good one. I took this photo of asparagus in my parents' kitchen with crappy lighting, so the coloring was all off. I did my processing and my selective coloring in LR3, but my heart wasn't in it.
I'll keep going as long as I can; however, to my regular participants, please be prepared, because this meme will eventually cease to exist.