I always want to share things with my fellow bloggers, so I try to mix them in with my regular posts. But I get so disorganized, and I can never remember what I have (or haven't) posted. So I am going to do what some other bloggers do and post it once a week. It'll be
Things I Love on Thursday
.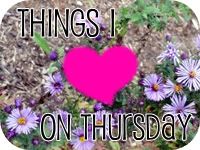 First up is music. I am SO loving Bruno Mars' new song, Grenade. His voice is just so sweet. This video is simply a single image of the cover art for his new album, so you can press play and listen while you read the rest of my post.
I am really loving the fact that my
wedding
is just over 9 and a half months away! I am super excited for the ceremony itself, not to mention the opportunities that will present themselves after it's over. It's going to drastically change my life (not for better or worse), and hope for the future is so tangible, I am swimming in it. Drowning myself in dreams that finally seem within reach.
I love my bridesmaids' dresses! Well, it's one dress. My original plan had been to pick one style dress in several pastel shades. But with an August wedding, pastels look so off-season. So I picked one color, and I had wanted to let my girls each pick a different style dress in that shade. That, however, is extremely difficult and expensive. And I also switched my color. So, the shop owner generously ordered a sample dress in my new shade for my girls to try on. All but one of them has tried it on now, and they all look gorgeous! Blondes, brunettes, tall, short, freckly, tan, and porcelain - I have a colorful group, but each girl looks beautiful.
Last but not least, I love that I finally ACTUALLY have a photo for YouCapture! I haven't linked up to Beth's meme in ages, but I have been taking lots of photos lately, and I saw this week's theme just in time. There are 2 themes: Halloween and silence. My Halloween photos are nothing special, so I am just going to post a silent photo:
My silent hotel room last night.