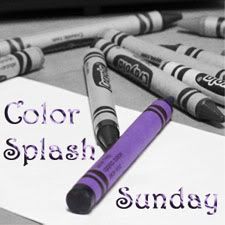 Color splash photos are those that have been

converted to black and white

, but

one object has been left colored

. Sometimes, it's easy to just isolate your colored object and you're done. Other times, more editing is required, such as adjusting color levels/light/shadow/etc.
This is our LAST week of CSS with an actual theme - Something Masculine. Starting next week, the permanent theme will be open - YOUR CHOICE.
This is a photo I took last November when we went to visit family at Thanksgiving. My little cousins - 2 very rambunctious boys - are always running and yelling and leaving little toys scattered behind them. To a camera junkie like me, this always means plenty of photo ops.
Batman to the rescue!

YOUR CHOICE
(new permanent theme)
Before you link up, please read
this page
very carefully, and look at
my examples of color splash photos
to see if your photo uses selective coloring.
*Please let me apologize for getting this up so late. I had a girls' night out last night, complete a road trip, a concert, and a hotel room. So I was feeling less 100% this morning, and then we still had to drive home because I had to drive to Boston for work.
I am leaving this week's Linky Tool open until 12 pm EST on Thursday to account for it being put up so late.