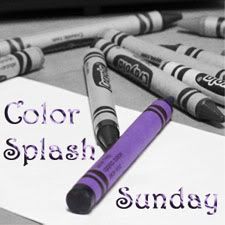 Color splash photos are those that have been

converted to black and white

, but

one object has been left colored

. Sometimes, it's easy to just isolate your colored object and you're done. Other times, more editing is required, such as adjusting color levels/light/shadow/etc.
This week's theme is YOUR CHOICE.
Starting the week of November 28, I will not be posting specific themes. This means that the theme is now permanently going to be YOUR CHOICE. I chose to switch to open themes because the weeks that were YOUR CHOICE were always the weeks with the most entries. This gives you free rein over photos and creativity. If you have any questions or concerns with this switch, please ask them in a comment.
This is my selective color photo that I used for the
October 2010 photo hunt
. It's from a Notre Dame football game. Jon's brother and
SIL
went there for college, so all of the Gallagher family members are die-hard fans (which means I have to try to be interested in football). I'm not going to lie, the whole experience is fun, with tailgating and wearing kelly green. But the sport itself is not my favorite. I'd rather watch basketball.
And yea, my last name is going to be Gallagher in a few months. ;)

SOMETHING FEMININE
Before you link up, please read
this page
very carefully, and look at
my examples of color splash photos
to see if your photo uses selective coloring.