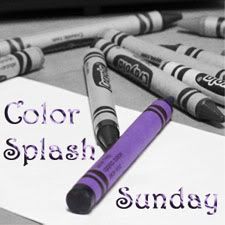 Color splash photos are those that have been converted to black and white, but one object (or several small objects) has (have) been left colored. Sometimes, it's easy to just isolate your colored object and you're done. Other times, more editing is required, such as adjusting color levels/light/shadow/etc.
This week's theme is YOUR CHOICE. I'll be perfectly honest, I didn't any time to do photo editing this week. I am using
photoscape
as my main editor right now, so I need to borrow
my dad
's laptop in order to do selective color editing. Since I am traveling for work Monday through Friday, that doesn't leave much time to use his computer.
I'm using an archived photo of my cousin that I had edited ages and ages ago. I edited this photo so long ago, before I knew anything, that I saved the photo in gif format, not jpg. Not smart. But I have received lots of compliments on this photo, so I like it, despite the graininess.

RAINBOW!
Ideally, I'd like to see at least 3 colors, and they shouldn't be spread out. Stripes or polka dots work best.