I always want to share things with my fellow bloggers, so I try to mix them in with my regular posts. But I get so disorganized, and I can never remember what I have (or haven't) posted. So I am going to do what some other bloggers do and post it once a week. It'll be
Things I Love on Thursday
.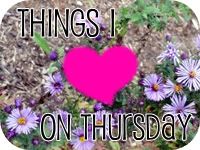 First up is music. The song that I am loving on A LOT this week is
Rhythm of Love
by Plain White T's. So adorable!
While you listen, you should check out
Brandi's blog
. Her daughter, Avery, is such a little cheese! I love reading her stories about Avery's adventures. Brandi also has an
Etsy shop
for the CUUUTE bows she makes. I've already picked out a few that I will be buying for my (soon to be) nieces, as soon as their hair grows out a bit.
You know what I love about Brandi? She's incredibly generous. She's so generous that she wants to give YOU a bow she made! You should check my blog again next week for more details about that.
I really love that I'm almost halfway through travel season for my job. My last week is actually the week of Thanksgiving, so next week is the true midway point. That means I'm halfway done with driving all over New England, halfway done with college fairs, and halfway done with spending my nights in hotels, watching
Law & Order: SVU
marathons.
I love Detective Olivia Benson. And
Mariska Hargitay
. I love her a lot.
That's all for today. More things I love next Thursday!