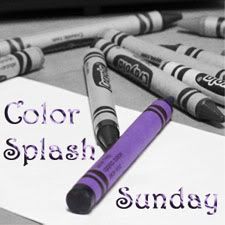 Color splash photos are those that have been

converted to black and white

, but

one object has been left colored

. Sometimes, it's easy to just isolate your colored object and you're done. Other times, more editing is required, such as adjusting color levels/light/shadow/etc.
Before I get to this week's theme, I am so happy to say that I picked a winner last week! We had 6 entries for the Animal theme, which is my minimum for picking a winner. I have to admit, it was tough. In the end, I chose Lisa from
White Cotton Tee
because I just loved her selective color photos of the calf and his papa!
Congrats, Lisa!
Feel free to snag this button
and display it on your blog!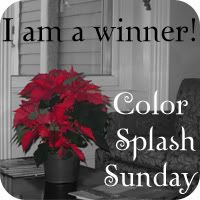 On to this week! The theme was eyes, courtesy of Marlis, who faithfully enters a photo every Sunday. I actually took this photo yesterday in the car and rushed to process it so I could post it today. It's not a great photo, that's certain, but my eyes were especially green, due to the green shirt I was wearing.

HALLOWEEN!
(If you don't celebrate the holiday, use something autumn-y instead.)
Before you link up, please read
this page
very carefully, and look at
my examples of color splash photos
to see if your photo uses selective coloring.