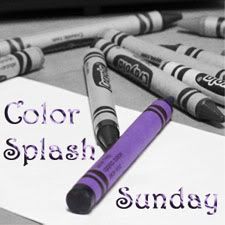 Color splash photos are those that have been

converted to black and white

, but

one object has been left colored

. Sometimes, it's easy to just isolate your colored object and you're done. Other times, more editing is required, such as adjusting color levels/light/shadow/etc.
Before I get on to my photo for this week, I had to post a photo of myself as a kid on Halloween. I'm thinking I was about 4 years old here. I love my little pouty face!
Okay, now for some selective color! This week's theme is Halloween (or autumn for anyone who doesn't celebrate). I chose an older photo from 2 years ago. This is Jon, but it doesn't like like him! I did some creative editing to make him look kinda like a vampire.
I also wanted to post a photo of myself, wearing one of my favorite costumes, but I didn't have time to any more editing. I'll have to post it next year!

YOUR CHOICE
Before you link up, please read
this page
very carefully, and look at
my examples of color splash photos
to see if your photo uses selective coloring.
Starting the week of November 28, I will not be posting specific themes. This means that the theme is now permanently going to be YOUR CHOICE. I chose to switch to open themes because the weeks that were YOUR CHOICE were always the weeks with the most entries. This gives you free rein over photos and creativity. If you have any questions or concerns with this switch, please ask them in a comment.