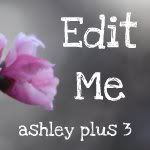 Disclaimer: This is not my photo. I did not take it.
Copyright belongs to the original photographer.


SOOC:



My clean edit:
(crop, levels, Nice N Clean action from Ashley Sisk, tweaked to taste, manual eye sharpening)


My color edit:
(a bit of a retro feel using an action from M4H)



My b&w edit:

Ever since I realized that
professional photography is not in the cards for me
, I've become much more comfortable using actions to edit my photos. Since people aren't paying me to edit photos of their kids, I figured I can edit in whatever manner that I choose, whether I take the time to create the layers myself or use an action to get it done quickly.
Also, I am constantly reminding myself to scale back to prevent over-editing when working with photos of people. It's only when I edit still-life and nature photos that I let myself go crazy. Fair enough, right?!