I always want to share things with my fellow bloggers, so I try to mix them in with my regular posts. But I get so disorganized, and I can never remember what I have (or haven't) posted. So I am going to do what some other bloggers do and post it once a week. It'll be
Things I Love on Thursday
.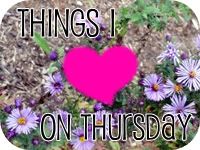 First up is music. This is an older song, but I've always loved Muse.
Last week, I focused on my favorite female characters from my current favorite shows. Now, I will show you the male characters that I love! From NCIS, I really like all of the male characters. But Gibbs takes the cake. An older man that doesn't really seem old, intuitive and tactful, honest but not rude... Plus, he's great with kids!
From Big Bang Theory, it has to be Leonard. He's such a sweetheart! From L&W: SVU, the psychologist, Dr. Huang. And from The Office, Jim. Duh.
I really love fun fonts, so
kevinandamanda.com
is a site that I truly love! They have so many different fonts, from cute to elegant to fun to plain and simple. I also use dafont.com. Here are 3 that I've recently downloaded and love:
And my last love for today is about my job. I work for a Catholic college, so we celebrate Good Friday and Easter Monday... Meaning I am off from work tomorrow and Monday! Gotta love long weekends, especially because I am using some of my leftover vacation days to give myself long weekends next month. I definitely need the extra hours to keep the condo clean while I am planning the wedding, and I don't want to lose all of the days that I have accumulated. Does that mean more blogging? We'll see!
That's all for today. Have a lovely Thursday!