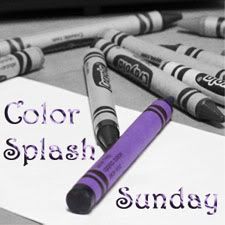 Color splash photos are those that have been converted to black and white, but one object (or several small objects) has (have) been left colored. Sometimes, it's easy to just isolate your colored object and you're done. Other times, more editing is required, such as adjusting color levels/light/shadow/etc.
Thanks to The Mommy over
Twenty Little Toes
, our theme this week was uber-creative! She wanted us to photograph and splash color on a symbol of how we enjoy our food, so signage on a street stall, a simple place setting at home, a meal in a posh restaurant, etc.
Alas, if only I could post my own entry this week. Unfortunately, I left my laptop charger at the office. I was given a delightful 5 days off (10 total including weekends and Independence Day Monday). So I was REALLY excited to leave on Friday afternoon. So I left my cord on my desk. So my laptop battery is dead. So I am using my dad's work laptop. So I can't access my photos.
That's a lot of so's in there.
Anyway, please don't let my carelessness prevent you from posting your own entry this week.

Your choice.