I don't know if I have ever technically started a trend, and I am also unsure about whether I am personally trendy. However, I do certainly believe that my blog is trendy. It's cute, it has a great layout with matching graphics, and it covers a wide variety of topics, thus reaching out to a wide variety of readers. Trendy!
Two of my favorite bloggers, Neel over at
Being Zara & Zidan
and The Mommy over at
Twenty Little Toes
, have both given me a very prestigious blog award: The Trendy Treehouse Trendy Blog Award! WOW! It's such a great award, and I'm honored to think that these 2 ladies both think I deserve it. Many thanks to both of you!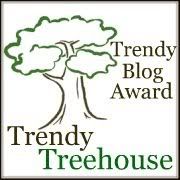 I now have to share this with 10 trendy bloggers. That's a lot.... How about 5? Okay? Okay.
1. Natasha over at
5 Minutes Just for Me
2. Amy over at
Coffee Lovin Mom
3. Morgan over at
Dare You to Move
4. Cherees over at
Our New Life
5. Bec over at
the iheart blog
And I'll end with some photos for Macro Friday, which is run by Laura over at
Blogging from Bolivia
. This is my entry:
And this is pretty little collage I made as I was editing this photo:
And a quick note: Yes, I know that all of my pictures are cut off on the right side. I am working on fixing that, because I really want to keep my 3 column layout. But I am busy today with visiting family and then dress-shopping for a wedding next weekend. For now, please click on my pictures to see them full-size.
UPDATE:
I think I may have fixed the issue with my photos being cut off. If you are still seeing cut off images, let me know. Because my layout has been sized according to my screen size, it may look different on your screen. As a general rule of thumb for all blogs though, you should always click on photos to see them full-size.