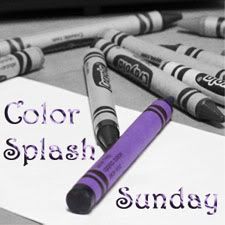 Color splash photos are those that have been converted to black and white, but one object (or several small objects) has (have) been left colored. Sometimes, it's easy to just isolate your colored object and you're done. Other times, more editing is required, such as adjusting color levels/light/shadow/etc.
This week's theme is Toys of Today: something you (or your kids) play with today. Preferably something that didn't exist when you were a child.
I have so many TOYS that I play with that didn't exist when I was a kid: my iPod, my laptop, dvd's, the Wii. But the thing I play with the most is my camera. Photography is a hobby of mine that I am seriously considering turning into more of a business. I just don't have the resources to get started yet.
Anyway, here's my little point and shoot, the Samsung SL620. It really is a lovely shade of pink, and it has several features that I was specifically looking for when I picked it out. HOWEVER, it has an issue with the CCD (charge-coupled device) either getting over-charged or over-heated, a problem that can only be fixed by the manufacturer. Seriously annoying.
While we're on the topic of photography, I'd be pretty self-centered to neglect to mention
my dad
. He's the reason I'm a pathological picture-taker. He took all sorts of photography courses when he was in high school, and passed on the love to me. I think it runs in the family, because his sister and 2 of his nieces are the same way.
So thanks, dad, for instilling the love of photography in me. You created a monster. ;)
Okay, link up with your color splash shots of toys of today! PLEASE remember to use the permalink to your POST, not the link to your blog. It's much harder for people to find your blog post when you don't use the permalink.

How people enjoy food.
We already looked at colorful food itself, now let's look how we all ENJOY our food. This theme came from The Mommy over at Twenty Little Toes. Her examples: "a signage on a street stall or a fancy meal in a posh restaurant." Perhaps a logo from your favorite diner? Or a simple place setting on your dining room table.