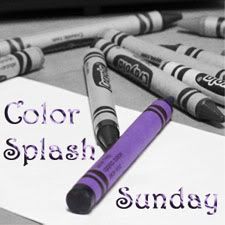 Welcome to Color Splash Sunday!

Color splash photos are those that have been

converted to black and white

, but

one object has been left colored

. Sometimes, it's easy to just isolate your colored object and you're done. Other times, more editing is required, such as adjusting color levels/light/shadow/etc.

This is an open themed link-up, so there won't be any specific themes for your photos. Any photo is fine, as long it was taken or setup by you, has selective color, and you haven't posted it before. You can read more about CSS guidelines by clicking here.
I had an exceptionally busy week last week, and was unable to go see everyone's photos from the last link-up. As such, I didn't pick my top 3. I hope no one minds terribly. As it is, I've been considering dropping the whole "top 3" thing anyway. It usually takes me a couple hours to go through everyone's and pick my favorites. Sometimes, I have to squeeze in some time to do this, and I think it would make me feel a bit less stressed if I didn't do it. Please leave your thoughts in a comment!
Anyway, here is my photo for this week:
My little brother has been playing modified baseball on a Challenger league specifically for students with disabilities. He absolutely loves it! He is #61.
Your turn to link-up!