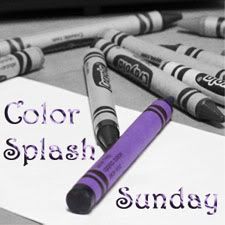 Welcome to Color Splash Sunday!

Color splash photos are those that have been

converted to black and white

, but

one object has been left colored

. Sometimes, it's easy to just isolate your colored object and you're done. Other times, more editing is required, such as adjusting color levels/light/shadow/etc.

This is an open themed link-up, so there won't be any specific themes for your photos. Any photo is fine, as long it was taken or setup by you, has selective color, and you haven't posted it before. You can read more about CSS guidelines by clicking here.
First off, I have to apologize for getting this up so late. I usually schedule my CSS posts ahead of time, on either Friday or Saturday. However, with wedding planning and my usual duties around the condo (cooking and cleaning), time got away from me. Again, I was unable to get around to visiting everyone who linked up last week.
Saturday was a very exciting, busy day for me. My maid of honor, bridesmaids, mother, and FMIL all threw me a surprise bridal shower! It was an awesome experience, and I still cannot get over how amazing it was. I hope to post some photos at some point in the future.
Second, I have decided to temporarily abandon listing my top 3 favorite photos. This summer looks to be incredibly busy in all aspects of my life. I'm sure none of you will be devastated, right?!
And my photo for this week:
Some of the balloons from my shower. This photo was taken earlier this morning, after they had lost their buoyancy. You can see some of my presents piled up behind the balloons. We still don't have a dining room table, so we have a big empty space... I mean, we USED to have an empty space. Now it's filled with boxes and presents and pretty bags. And my wishing well, which is just adorable. I promise to post a photo of that, at least!
Okay, your turn to link up!
'