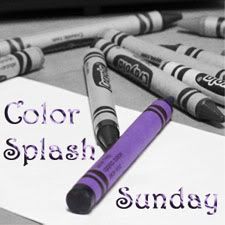 Welcome to Color Splash Sunday!

Color splash photos are those that have been

converted to black and white

, but

one object has been left colored

. Sometimes, it's easy to just isolate your colored object and you're done. Other times, more editing is required, such as adjusting color levels/light/shadow/etc.

This is an open themed link-up, so there won't be any specific themes for your photos. Any photo is fine, as long it was taken or setup by you, has selective color, and you haven't posted it before. You can read more about CSS guidelines by clicking here.
Here are my 3 favorites from last week:
(These photos are all copyright of their original photographers.)
Congrats to these talented photographers!
Feel free to snag this button
and display it on your blog!
And here is my photo for this week:
I did some experimenting with the artistic filters in pse. As much as I love playing around with them, I don't usually leave them on a photo that I am editing. This time, I applied and tweaked dry brush strokes, and decided that it actually looked better than before. I know there are several bloggers out there who use these filters often, and use them well. I'll stick with my experiments for now and see how it goes.
Okay, your turn to link up! Remember to use the permalink for your CSS post, not the main address for your blog. Feel free to ask in a comment or email me if you are unsure of how to do this.