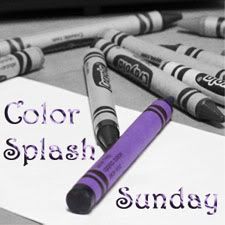 Welcome to Color Splash Sunday!

Color splash photos are those that have been

converted to black and white

, but

one object has been left colored

. Sometimes, it's easy to just isolate your colored object and you're done. Other times, more editing is required, such as adjusting color levels/light/shadow/etc.

This is an open themed link-up, so there won't be any specific themes for your photos. Any photo is fine, as long it was taken or setup by you, has selective color, and you haven't posted it before. You can read more about CSS guidelines by clicking here.
We had 5 great bloggers who participated last week. My rule of thumb has always been to pick favorites ONLY IF we get 6 or more participants. Picking 3 favorites out of a group of 5 or less means that it's more obvious who gets left out. I don't anyone to feel left out. So, all of you are my favorites for last week!
I've been so busy editing photos for the
April Photo Hunt
, that I almost forgot to make a selective coloring photo for today! I've also been busy learning ACR (Adobe Camera Raw), which I never needed because my Samsung point-and-shoot doesn't have the ability to shoot in RAW. But my dad shoots in RAW with his DSLR, and I forgot to switch it to JPEG when I borrowed it a few days ago.
Using ACR is fun, I guess, but I prefer LR3, which I used for a trial period last year when it was first released. I loved LR3 so much; I wish had a reason to really need it. pse8 will have to suffice.
Here's my photo for this week:
Your turn to link up!