First official post! I am so excited about this; I really hope it all works out.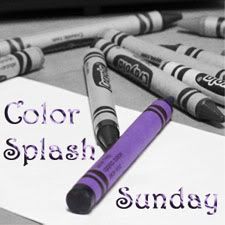 For the first few weeks, I chose simple themes: colors. This week, let's focus on red! I took several pictures of red objects (pj pants, a rose, a bow) and I decided to splash some color on this shot of some books.
I focused right on the red book when I took this picture, and then I softened it up even more when editing. I don't usually do that with color splash, but I just didn't like all the distracting text on the other books.
So, I know Laura and Lena both said they were interested. If anyone else decided to join us, I have the MckLinky below so you can share your color splash photos with everyone! You have 2 days to post your link; the list closes in 48 hours.
OH, also, if you want to show-off my pretty new button anywhere on your CSS post or on your blog, you can click on my Color Splash Sunday page located right below my header.