My apologies for my short absence. My laptop is on life support right now because it's freezing at start-up. Sure, my dad is a computer guy and could easily fix it, but this laptop belongs to my school. As such, they have it locked and protected so we can't just play around with it. I'll have to return it to them when I graduate, and I am really looking forward to having my own computer again. (Here's to hoping my brother will give me his laptop, since he is also graduating, he doesn't use his laptop often, and I really don't have enough money to buy one.) Although something good did come out of this - My dad and I split the cost of an external hard drive so I can finally get all my old photos off my old laptop (which my mom has commandeered for facebook and ebay and Mahjonng Master).
Anyway, I missed
PSF
and
FIF
, and
RAW(e)
didn't have a theme this week (because poor
Sami
is getting hit hard by morning sickness), but I just couldn't miss CSS. I can't access any of my photos that are on my laptop, so I had to take some new photos and use my dad's trial version of pse 8.0 on his work laptop. Luckily, I love taking pictures and he didn't object to DLing some actions; I was really itching to use the Creamy Chocolate B&W from
CoffeeShop
.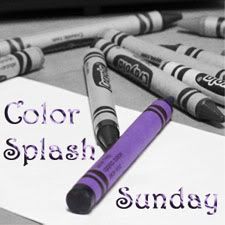 This week's theme is green, so I had a photoshoot with the eggs that I colored with Matty. It's a big tradition in my family, regardless of age. Even my dad gets into it, and then he hides the eggs for us to find. Matt loves it, and it helps him to focus on specific objects. (He has floating scotomas that prevent him from prolonged eye contact.)
I love how the green egg looks like the only one that's been dyed, but the brown egg in front of it is actually green and the one behind it is orange. Oh, Creamy Chocolate B&W action, I ♥ you SO MUCH.
Okay, link up for Color Splash Sunday! This one doesn't end until Friday. I'm being very generous. :)