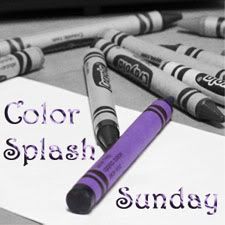 Pink was my favorite color when I was a kid. I mean, pink walls, pink sheets, pink clothes... Yea, I was the definition of a girly-girl. But when I turned 12, I finally decided to repaint my walls. I randomly chose purple, and ever since then, that's been my favorite color, although my walls are yellow now.

When I shed the pink-ness of childhood by choosing purple walls, I unknowingly paved the way for other changes. I gradually gave up the pink clothes and the various pink trinkets, and starting really developing myself as a person, rather than a child. It's been fun getting to know myself.

I experimented making pink color splash photos with several different items. In the end, I chose my calendar blocks that you saw in my orange color splash photo.




This is our last week for color themes! We are going to branch out now by focusing on specific objects. Next week, we'll be doing

flowers

. I've done some flower photos already, so my advice is to pick one specific flower (whether it's in a garden or in a bouquet or even stuck in a vase all alone). Don't try to take a picture of a group of flowers and splash them all; it will be too busy.

Also, from now on, I'll try to keep the themes updated for the next 3 weeks. This way, you have time to think and prepare. You can always find these upcoming themes by clicking on my CSS page. I don't mind if you use older photos, as long as you don't reuse any photos. Any questions, just comment me!