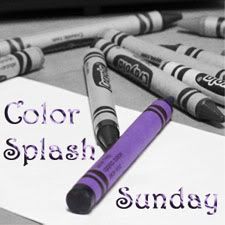 Color splash photos are those that have been converted to black and white, but one object (or several small objects) has (have) been left colored. Sometimes, it's easy to just isolate your colored object and you're done. Other times, more editing is required, such as adjusting color levels/light/shadow/etc
This week's theme is AMUSEMENT PARK or FAIR or CARNIVAL. My whole family went to our local county fair last week, and it was so much fun! The best about the fair is the food, easily. There's so much food everywhere! There is Greek food and Italian food and Polish food and American food and Chinese food and Mexican food... I am always stuffed when we leave.
Something I get every year at the fair is fried dough. Each part of the world has their own version of fried dough, including New Orleans. They have French-style beignets, which are very similar to my favorite, the Italian zeppoles.
Before I put up the Linky tool, I want to remind you all that MY GIVEAWAY ENDS TONIGHT! 9pm EST. There will be 2 winners.
CLICK HERE
to enter!
Okay, time to link up your own photos!

YOUR CHOICE!