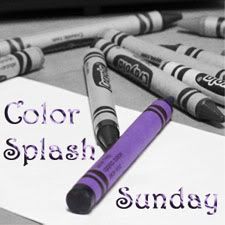 Color splash photos are those that have been converted to black and white, but one object (or several small objects) has (have) been left colored. Sometimes, it's easy to just isolate your colored object and you're done. Other times, more editing is required, such as adjusting color levels/light/shadow/etc.
This week's theme is a building. I had a big green barn that I was planning on using for this theme, but it didn't look good as a color splash. So I skimmed through this year's photos, trying to find SOMETHING, anything, that would work. Luckily, I had a whole folder full of photos of buildings back from April. My mom and I had gone to celebrate the
opening of the local dairy bar
, and I had been snapping photos as we drove through town.
One of those photos included one of the local dance studio. My mom had danced there back in the 70's, and I danced there for 14 years. I loved dancing, just as much as I loved
cheerleading
. I danced with a small group of girls whose moms danced with my mom. And we are all still best friends.
This is such a distracting photo, what with all the cars, the power lines, and the street signs. It's a veritable cloning nightmare. This is the PERFECT photo for selective coloring, because now my eyes are drawn straight to the building. All the other details kinda blur into the background.
Since I lost my pse, I tried experimenting with GIMP for this photo. I know several people who solely use free programs like GIMP and Picasa for photo editing, but apparently I'm a photoshop girl. I was so confused using GIMP, and it took me at least 20 minutes longer than it should have for such a simple edit.
I wonder if I can add pse to my wedding registry....

We are not doing CSS, as I'll be in Orlando, FL!