Cara over at
Mischief and Laughs
has started up a new meme called Photo Roulette Friday. She will post a number, no, 2 numbers, and we'll post the photo that we find using those numbers.
Today's numbers are 1(18), so the 18th photo in the 1st folder. The first folder in my 2010 folder is my Project Bedroom folder. My goal was to photograph every single item in my room that means something to me. I was using my dad's dslr, and I was definitely shooting in auto mode. Yuck. Not even pse could save this photo (which works for me, since I don't have pse anymore *cries*).
Anyway, this is my cheerleading trophy from senior year of high school. (I blocked out my last name and my high school's name.) I started cheering in 7th grade and really got into it in sophomore year of high school, when I made the varsity team. My high school team's coaches (a mother and daughter) were awesome. I have such fond memories of cheering in high school, even though I didn't really fit in with the rest of the girls. I was basically the only girl on the team who cheered because of the sport, not because of the other perks.
I also cheered for 3 different all-star teams and 2 different Open (college-level) teams, spanning about 10 years of my life. I miss cheerleading so much now. I coached junior high girls for a few years with my mom, but we just gave that up this year. I hope I get the chance to coach again in the future.

Hosted by Cecily and Lolli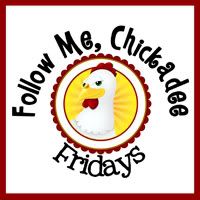 If you are coming in from Follow Me, Chickadee or New Friday Friday, please

CLICK HERE

to get to know me. I hope you'll follow me, or at least comment. I always follow/comment back. :)