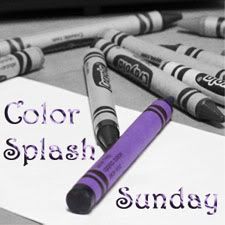 Color splash photos are those that have been converted to black and white, but one object (or several small objects) has (have) been left colored. Sometimes, it's easy to just isolate your colored object and you're done. Other times, more editing is required, such as adjusting color levels/light/shadow/etc.
This week's theme "Your Choice," which is the standing theme for the first Sunday of every month. Before I get on to my photo, please check the main
Color Splash Sunday
page for updated theme for the next 4 weeks. I am going to be on vacation for one week, so we are taking a break from CSS that week.
So, Jon has these cool sunglasses with orange-colored lenses. Orange is his favorite color, so he just loves these shades. Plus, he likes that no one can actually see his eyes when looking at his sunglasses. All you can see is yourself!
You can see my dad in the other reflection. I'm sure Jon felt like a famous movie star, with cameras shoved in his face.

A Building.