This will be quite a comprehensive post. I have several topics to cover!
I'll start with YouCapture, which is run by Beth over at
I Should Be Folding Laundry
. Our challenge this week was to capture Spring, differently than we did last week.
The thing that really means SPRING to me, around my town, is the first trip to the local dairy bar. It has new owners that keep the place open practically year-round, but when I was a kid, it was only open from April to September. The windows would be boarded up, the giant ice cream cone would be taken down, and the garbage cans would be stacked up in a corner of the lot. We all waited anxiously for it to open, and the day that we would drive past to see the windows thrown open and the umbrellas shading the tables, it was a celebration. The big opening was lost with the new owners, but we still have the celebration when we get the first milkshakes of the season. And who can resist the classic dairy bar meal - burger, fries, and chili?! (Although I stuck with a chocolate milkshake.)
I have several photos (count 119)
from this memorable occasion,
but I couldn't just pick one...
or several, for that matter.
So I made this cool little collage.
On to the next topic:
Color Splash Sunday
. This weekend's theme is colorful food, which should be fairly interesting. You may also post the recipe, if you'd like.
And the next topic: I've been following another mommy-blogger, Neel over at
Being Zara & Zidan
, who sweetly decided to pass on an award to me. It's the Happy 101 Award!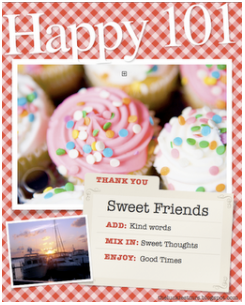 Rules:
1. Copy and paste the award on your blog.
2. List who gave the award to you and use a link to her blog.
3. List 10 things that make you happy.
4. Pass the award on to other bloggers and visit their blog to let them know!
So, here is my list of 10 things that make me happy, 5 concrete and 5 abstract:
1. Free actions and textures for photo editing.
2. Sundresses and pretty skirts.
3. Cupcakes with whipped cream frosting.
4. DD iced coffee.
5. Messages from my best friends.
6. I officially had my last grad class yesterday!
7. Hugs from kids/babies/friends/anyone.
8. Helping high seniors decide where to go to college.
9. Rainbows in the sky.
10. Being surrounded by family.
I have 3 bloggers I'd like to pass this award on to:
1. Donna over at
Double Happiness
. She always posts such cute photos and stories of her near-twin daughters, and I LOVE her photo collages!
2. Jen over at
Life... And All That Comes With It
. She always has an inspirational message or a fun photo or a creative paper collage.
3. Natasha at
5 Minutes Just For Me
. She does share a blog with her sisters, but this one is her own, and she always has some kind words and sweet photos.
Next topic: A Carbon Neutral update. I have now planted 4 trees, for myself and for 3 lovely ladies who have signed up to make their blogs carbon neutral. If you want more information, please
click here
. I'll be posting a tree planting tutorial one of these days.
And now for the last topic, the most important: Matty. My younger brother. His neurologist appointment yesterday. No news. More questions.
He has to get several more tests and see more doctors. That's it. That's all we know, for now. She was able to tell us that his reaction time and reflexes are getting better, and we also know that his vision hasn't worsened in years, which is a VERY good thing. We just have to get all the pieces of the puzzle.