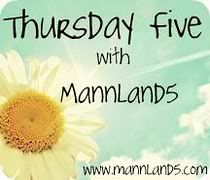 Thursday Five with MannLand5,
where we get to look back on our week
and come up with 5 things that have made us:

Happy

Joyful

Excited

Jubilant

Grateful
1. I am
so happy
that the sun has been out all week and the temperatures are high.
2. Something that makes me feel
joyful
is thinking about my 4-day weekend that starts tomorrow!
3. I was
excited
earlier this week because I interviewed for a full-time job, and I felt it went VERY well.
4. What made me
jubilant
was that someone at work paid me a very big compliment.
5. I am
so incredibly grateful
that Matt's bloodwork is almost back to normal and his kidney function is not degrading.
A mom, sharing a quiet moment with her soon-to-be daughter-in-law.