I missed my 100th post! It was my last post about the pink-themed "Two Moms Made a Photo Challenge." I didn't really have any specific plans regarding this momentous event, but I'm a little bummed that I didn't even mention it.
But, hey, if there was a movie about 101 spotted dogs, I can certainly celebrate 101 posts. *throws streamers*
Welp, that was fun.
On to Color Splash Sunday.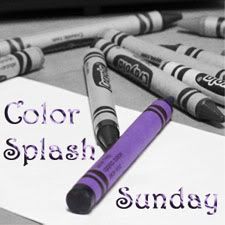 This week's theme was Inspiration.
This is a bulletin board in my office where I display thank you cards from students I've met. I work in college admissions, so I give tours, help them with the application process, follow up after they're accepted, guide them through Financial Aid, and basically be the "go to" girl for all students in my territory (CT and MA). Some of them have it easy - they are accepted quickly, they file their FAFSA, and they are all set. Others, though, have it a little harder. Sometimes, I speak to a family several times a week.
But when they move in to their dorm in August and become students at my alma mater, I get that feeling, like it was all worth it. All of the phone calls, the emails, it was SO worth it. To help students pick the place where they are going to be for the next 4 years, and to support them in choosing their education. It's such a hard decision, but when students send me thank you cards (especially in an age where most teenagers would rather text), I know I am making a difference in their lives.
I love my job.
Okay, link up! Next week, we'll do FLAGS. It can be any flag - one from the country you live in, the country you WISH you lived in or one that is part of your heritage. I am looking for creativity here. For example, a flag made of berries on a cake. Basically, it doesn't have to be real flag. (But it can be.)
Also, check my Color Splash Sunday page up above to see more upcoming themes!