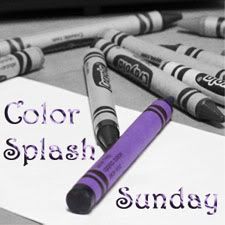 Welcome to Color Splash Sunday, my own meme!
I started this in order to spread my love for color splash (aka selective color), and to help photographers see how this technique can make their photos more unique, as long as it is not overused. For more information,
CLICK HERE
.
This week's theme is FLAGS - A flag from the country you live in, the country you WISH you lived in or one that is part of your heritage. I am looking for creativity here. I can't wait to see how everyone has portrayed their favorite flag!
Here is mine. This is one of many flags in my town. I love how it is standing straight and tall, and blowing in the breeze.
I live in the United States of America. If I could afford to travel around the world, I'd want to visit the countries where my ancestors lived: Italy and Poland on my mom's side, and Germany, Austria, and Ireland on my dad's side. I have a very rich heritage that I am extremely proud of, but I worry that my unborn babies won't appreciate the way I do. It's hard enough for me to understand it, and it will be even harder for them, since most of my older relatives have passed on. At least I can be sure that my unborn babies will share in my American pride!
Speaking of American pride, today is Memorial Day. Besides being the unspoken start of summer, it's also a national holiday set aside to remember our veterans and soldiers that served, are serving or gave their lives for their country. My grandfather (mom's dad), aka my pop-pop, served in World War II. He suffered injuries overseas that eventually led to his death when I was 4 years old. I have very few memories from the first few years of my life, but I cling to my memories of my pop-pop.
Back to CSS.
Next week's theme is YOUR CHOICE!
From now on, the first Sunday of every month will be "Your Choice," meaning that you can submit any photo you want, as long as it has color splash and you haven't used it before.