First, I have to give a warm, virtual hug to all my blogger friends who are moms. Today's is Mother's Day (In America), so I wanted to just say that you all, you moms, are really superheros. I'm thinking of one of my best friends, who can't be with her mom today, and I'm thinking of the mom in NYC who "threw away" her 2-month-old, and I'm thinking of all the women in this world (especially my cousin) who can't have babies. And it makes me really grateful that I live with my mom, even though she is overbearing at times and fills up my desk with newspaper help wanted ads. Because, despite that, she did raise me to value family over anything else. That's all I need, family. And someday soon, I'll raise my
unborn babies
the same way.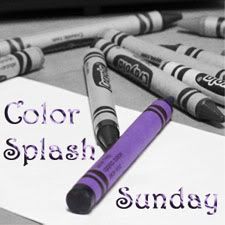 This week's theme is COLORFUL FOOD. I thought of this about 3 weeks ago, around Earth Day. I had been visiting various blogs through UBP'10, and found one sporting a great sugar cookie idea. She had used food dye to make blue and green swirled cookies to look like little Planet Earth's! I thought it was so cute and immediately I wanted to try it out.
Alas, I just didn't have time to do any baking, until this weekend. It was my first weekend with no work and no homework (no more grad class!). I made a delightful mess and some delicious pink and purple swirled sugar cookies.
30 minutes later, there were only 4 left from the 3 dozen I made. Cookies go fast in this house.
Linky is up, it lasts until Wednesday night. No rush to link up! Please
read this
to ensure that your photo fits the theme.