I am linking this photo up with both
Macro Friday
and the
Sweet Photo Challenge
(the theme is
Yellow
).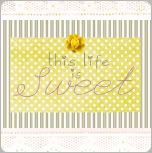 And now for iPhoneography! This is a new meme that was started by Courtney over at
One Mom's Perfect Imperfections
. You can click on the button below for more information and to link up your own smart phone photos.
Back in November, my dad's job gave him a new cell phone. Being one of only 2 IT guys for an entire school district, they want him to be available at a moment's notice.
So he passed his iPhone down to me. (I'm not actually using it as a cell phone... I can't afford a data plan.)
But it's handy to have around for checking email and fb, as well as using it to capture moments when I don't have time to dig out my camera. I'm having so much fun with it that, last month, I think I used the iPhone camera more than my point-and-shoot!
These photos were all taken on my iPhone. Only 2 of them were actually processed, the top left corner and the bottom left corner, both with the Instagram app.
Next week, I am going to put together a list of all the photography apps that I've downloaded. All of them are free, so I'll give my own opinion of each app and try to show some examples.

Hosted by Cecily and Lolli