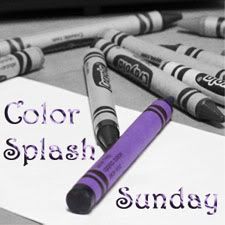 Welcome to Color Splash Sunday!

Color splash photos are those that have been

converted to black and white

, but

one object has been left colored

. Sometimes, it's easy to just isolate your colored object and you're done. Other times, more editing is required, such as adjusting color levels/light/shadow/etc.

This is an open themed link-up, so there won't be any specific themes for your photos. Any photo is fine, as long it has selective color and you haven't posted it before. You can read more about CSS guidelines by clicking here.
Before I announce last week's winner, I want to thank all of the newbies for joining us in splashing color on their photos! We had a record number of entries with 14 participants! That's just amazing. Let's keep it going, friends!
I had a really rough time picking a winner. Every single photo has its merits. And with all this new talent emerging into the blogging scene, I'm actually considering dropping the whole "winner" thing.
So I need to hear your thoughts! My policy right now is to pick a winner myself when I have 6 or more entries. However, I've noticed that more photo challenges are trending towards a public vote. What would you prefer? When you link up today, leave me a comment telling me if you like seeing one specific winner picked by me, if you think everyone should vote, or if you think everyone is a winner.
For last week's entries, I narrowed it down to 3 and decided to showcase all 3 of them:
And the winner is...
Stephanie over at Poison in Mae! Her processing on the photo was just gorgeous, and the selective color on the bow adds the perfect finishing touch. (
CLICK HERE to see it full size.
)
Congrats, Stephanie!
Feel free to snag this button
and display it on your blog!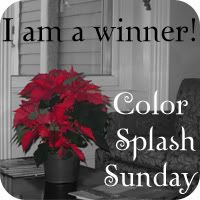 And now for my photo for this week. Yesterday, I posted
a SOOC shot of the big Christmas tree
at Magic Kingdom in Orlando, FL. Here is my edited shot:
Before you link up, please right click
HERE
and open in a new tab/window so you can check out the list of themes for the
February 2011 Photo Hunt
that I am hosting. There are 12 themes, so there is still time to start shooting and finish by
Feb 28
.