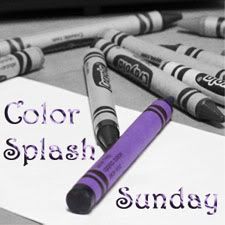 Welcome to Color Splash Sunday!

Color splash photos are those that have been

converted to black and white

, but

one object has been left colored

. Sometimes, it's easy to just isolate your colored object and you're done. Other times, more editing is required, such as adjusting color levels/light/shadow/etc.

This is an open themed link-up, so there won't be any specific themes for your photos. Any photo is fine, as long it has selective color and you haven't posted it before. You can read more about CSS guidelines by clicking here.
My 3 favorites from last week:

(These photos are all copyright of their original photographers.)
And the winner is...
Rachel over at Wildflower Photography! I love how the selective coloring really brings the focus to the baby, and removes distracting elements like the blanket. (
CLICK HERE to see it full size.
)
Congrats, Rachel!
Feel free to snag this button
and display it on your blog!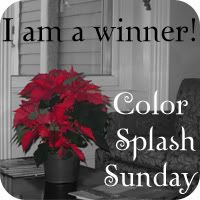 Before I post my photo, let me first apologize for getting this up so late. I had a busy day yesterday with my bridesmaids, so I wasn't able to schedule this post like I usually do. I have another busy weekend coming up, but I promise not to let this slip my mind again.
Today's photo is from Disney. I love the LGM's from the Toy Story movies!