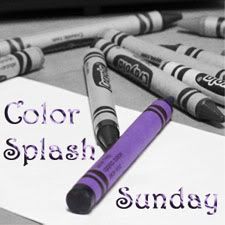 Color splash photos are those that have been converted to black and white, but one object (or several small objects) has (have) been left colored. Sometimes, it's easy to just isolate your colored object and you're done. Other times, more editing is required, such as adjusting color levels/light/shadow/etc.
This week's theme is ice cream! Here in America, today is ACTUALLY
National Ice Cream Day
!
This is my favorite flavor EVER. There is no better combination than chocolate, caramel, and marshmellow, with some fudge fish on the side. I can eat this entire carton by myself. In one night. Which I did, after taking this picture. (Which is why I probably won't be able to fit into a wedding dress in 13 months.)
I got this idea back when we did pink objects and Marlis splashed the cutest photo ever -
her daughter eating some strawberry ice cream
. So I am really looking forward to seeing some different flavors of ice cream today!

Jewelry/Accessories