* Happy
Birthday,
America! *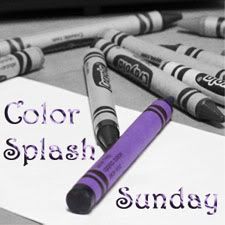 Color splash photos are those that have been converted to black and white, but one object (or several small objects) has (have) been left colored. Sometimes, it's easy to just isolate your colored object and you're done. Other times, more editing is required, such as adjusting color levels/light/shadow/etc.
This week's theme is YOUR CHOICE, which is the standing theme for the first Sunday of every month.
This is my pretty princess bookend. She was so patient and cooperative during our photoshoot, and she kept that cute smile on her face the whole time! ;)

Water.
Please remember to use the permalink for your post, NOT your blog url. If you are unsure how to find the permalink, let me know so I can post a quick tut.