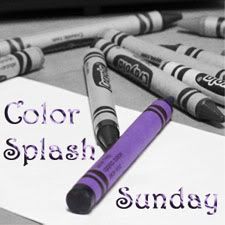 Color splash photos are those that have been converted to black and white, but one object (or several small objects) has (have) been left colored. Sometimes, it's easy to just isolate your colored object and you're done. Other times, more editing is required, such as adjusting color levels/light/shadow/etc.
I know I had messed up the themes last week, so I totally understand if you are all confused about what the theme REALLY is.
This week's theme is water. Tough one, I know, but I left it open. You can use a beach, a lake, a cup of water, etc. I used a river.
I used the
Denim action by Coffeeshop
. Not perfect, I know, but I was rushing this morning. I'm already running late. I usually have this Linky up much earlier. I'm sorry!

ICE CREAM!