Sorry this is up so late.
I promise, I am NOT
trying to make a habit of
being late for my own meme.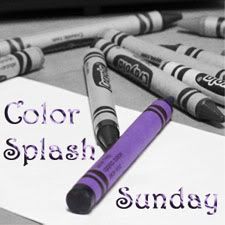 Color splash photos are those that have been converted to black and white, but one object (or several small objects) has (have) been left colored. Sometimes, it's easy to just isolate your colored object and you're done. Other times, more editing is required, such as adjusting color levels/light/shadow/etc.
This week's theme is Jewelry and Accessories, courtesy of Sam over at
Raising Rida
.
One of my rules is that you can't reuse photos. So would you all mutiny if I -sorta- reused a photo? I used the photo below for the
June Photo Hunt
, but I never actually posted here, on this blog. And it fits the theme perfectly. I wear these 3 bracelets everyday. The purple one is from my mom, the black one is from Jon, and I haven't taken the yellow Live Strong one off in ... years!

Your Choice